CHARITY
Back in 2003, he together with a friend, started a company in the demolition business. The companny vision is to demolish houses and build people. Many of the employees are former convicts. The intention is to help them with a new start. As the company compete in a market with other commercial companies, we also have to deliver to our customers. Thus, the employees feel a stronger obligation, because they know this is not a "program" but a company who needs its customers. Customers are some of the largest entrepreneurs. Since the company started, they have demolished several thousand baths, in addition to office cites, and also facilities for the Royal Kings Guard. The national Norwegian Magazine Dagbladet Magasinet did an interview with Harald and founder Thomas in 2018. The article can be read
here: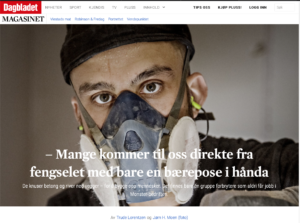 —
On a visit to the Kibera-slum in Kenya, Harald took interest in how poor quality the children's toys were. – If they had toys at all. Most of the toys were self-made, using wire, some cloth and whatever they had at hand. This did not come as a surprise but it lead to the idea of Mercytoys.
Many people have a passion or a calling for a certain country, people or area in the world. For me, when it comes to charity, I get very pragmatic. You find need everywhere in the world. I focus more on finding the right people to form a team than finding the right place. Long story short, in 2008, He started "MercyToys". It has three goals: Helping kids with education, providing kids with toys and try to create work for people in small and poor villages. Since it's start, it has helped several hundred children on the island of Camiguin, Philippines with their education. It has also given toys to a whole lot of kids. What makes MercyToys different from most other charity-organizations helping children with education, is that it doesn't build it's own schools, but rather help funding students supported by the local government. With the team consisting of people from the local area, Mercytoys simply help kids from poor families getting clothing, shoes and school-supplies they can't afford themselves.
Besides Haralds own charity projects, he has also done information-consulting work for Pym. Pym at that point had 15 aid projects supported by Norad. (Norad is the only directorate under the Norwegian Ministry of Foreign Affairs).
Project Details